by Nicole Chavez
Halloween has come early to UCLA, and it's scarier than ever.
On the night of Tuesday, October 6, the Sigma Phi Epsilon fraternity commonly referred to on our campus as "Sig Ep" hosted a "Kanye Western" themed party.
Baggy jeans replaced board shorts, padded bottoms were squeezed into jeans and leggings, and glossed lips were plumped and drawn on as partygoers delved into character.
With charcoal rubbed across some of their foreheads and cheeks, students made the implications of this "Kanye Western" theme much more apparent. Obvious stereotypes, in some cases blatant blackface, ran loose like it was 1935.
Various student organizations demanded an explanation for the fraternity's promotion of racism on campus. It took the group several days to release a statement that circumvented an authentic apology. They dubiously claimed that the students in blackface were actually dressed up as miners, as a play on Kanye West's song "Gold Digger." Regardless of their rationalizations, the fraternity's public statement fails to account for the numerous other students not dressed up as gold diggers who were apparently sporting black face at the event as well.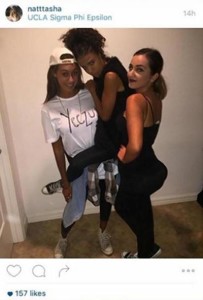 This instance of racial bigotry is not an isolated incident for UCLA. Over the past several years, students have become increasingly vocal about the racially discriminatory, and particularly anti-black sentiment that permeates the entire campus. Of all the UC schools, UCLA has the smallest population of black students, making up just 4% of undergraduates. This translates to only 1,189 out of nearly 30,000 students being black.
Black students, along with other racial minorities on campus, have been on the receiving end of objectification by their peers at these frat parties. For example, in 2006, one fraternity hosted an "All Around the World Party" where students arrived in blackface or with taped eyelids. That same year, another fraternity organized a "South of the Border Party" where students were encouraged to climb a chain link fence and carry plastic babies with fake drugs in them.
Fortunately, despite its small size, the black community at UCLA has been active in vocalizing its response to the "Kanye Western" party. Students have started two hashtags, #BlackBruinsMatter and #OurCultureIsNotACostume to expand the conversation regarding this issue to individuals outside of the university.
Furthermore, the Afrikan [sic] Student Association is rallying for a more proactive response from the UCLA administration than the simple public statement it released several days following the incident: "We remind students that while they are free to celebrate in ways that draw on popular culture, their specific choices can cause harm and pain to fellow members of their community. Put simply: Just because you can do something, does not mean you should." It may be fun to get dressed up and party, but never at the cost of making a parody of another individual's culture and identity.
You can be so many different things for Halloween—so many things! You can even dress up as inanimate objects or as imaginary creatures. Why of all costumes, do you choose to dress up as a member of a marginalized group? Think about it. Reflect. Read this list and share it with your friends to stop them from going viral on "Overheard at Yale" this Halloween:
If your friends aren't comfortable with your costume, take the hint and ditch it.
Trust your instincts. If you feel reluctant to put on the costume, there's probably a reason.
I don't care how much you wanted to be Princess Jasmine growing up, or the fact that you can belly dance like Shakira. No, just no.
You are not directly impacted by the fact that people get every second Monday of October off to celebrate genocide. You don't get to wear a headdress.
You have never had a person cross the street to avoid walking past you on the sidewalk. You don't get to put on blackface.
You've never had a guy use the "All my ex-girlfriends are Asian" pick-up line on you. You don't get to dress up as a geisha.
You've never had to get stopped and searched (read: frisked) for wearing a hat at the airport. You don't get to put on a turban.
If your costume does not conflict with the admonitions above, enjoy your trick-or-treating! If it does, resort to your backup costume: a sleep deprived college student – all you need are your pajamas. And if you're still unsure of your costume, consider skipping out on Halloween entirely. Instead, spend the night cozying up to some postcolonial literature. Just to preface, Frantz Fanon's Black Skin, White Masks is NOT like whiteface for black people.