by Daad Sharfi 
I had never been surrounded by so many Muslim writers before. I walked into a lecture hall tucked away in the City College of New York School of Law to attend the Muslim Writers Collective's first open mic of the year–The Storyteller's Resolution. I was not prepared for the three hours of poetic resistance and rhythmic confessions I was about to witness.  
The Muslim Writers Collective (MWC) is an initiative launched in 2014 as a platform where writers, aspiring artists and young professionals can share their stories. It aims to reinvigorate a rich literary tradition amongst Muslim Americans through spoken word, short stories, monologues, rap and song. With Islamophobic rhetoric rising to an unprecedented level, it is important to reclaim our narratives as Muslim Americans now more than ever. MWC chapters have spread across the country, with additional chapters in San Francisco, Atlanta, Baltimore, Chicago, Dallas, Detroit, Houston, Los Angeles, Philadelphia and Washington DC.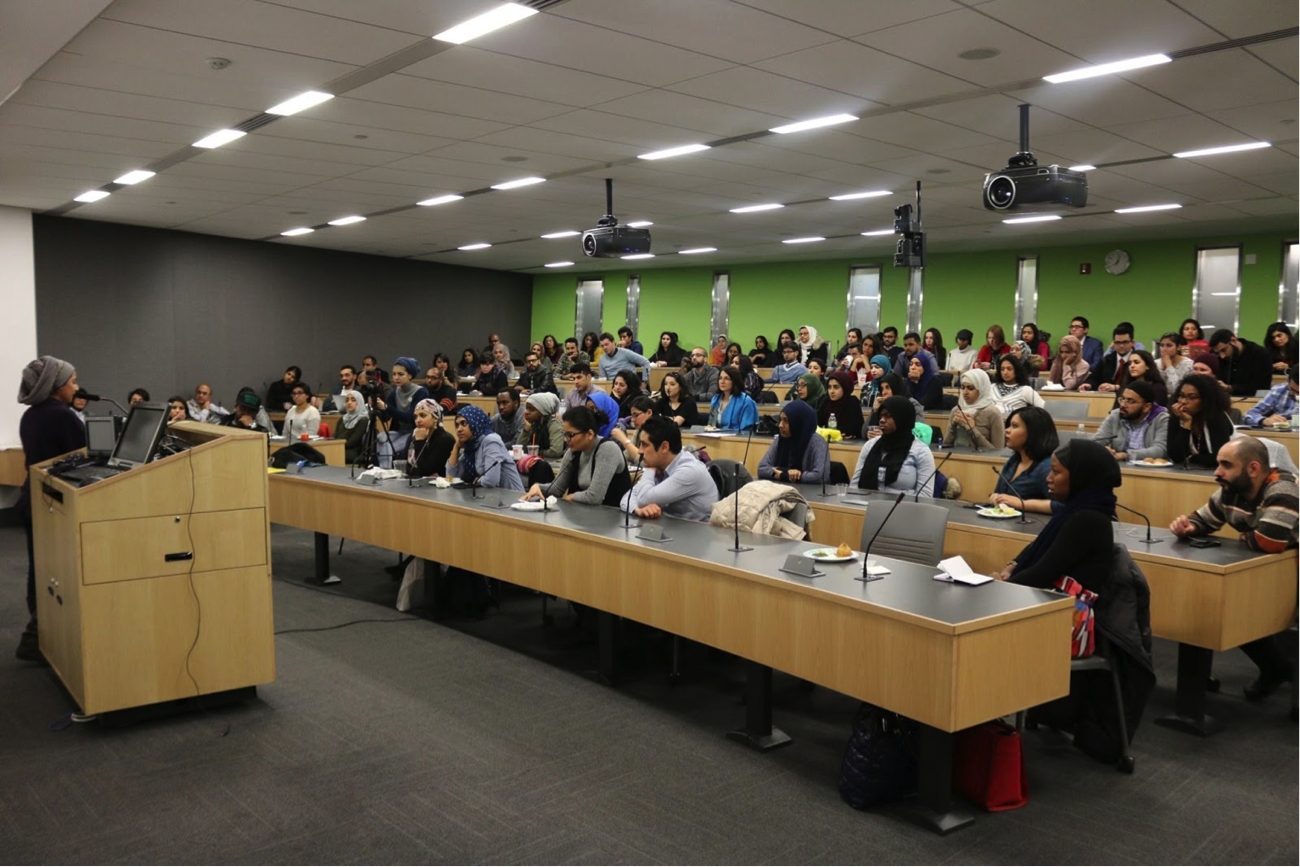 After settling down with a plate loaded with complementary samosas and kofta, I was pierced by the sharp reality of the context we live in. Two representatives from the CUNY CLEAR project (Creating Law Enforcement Accountability and Responsibility)–opened up the show by encouraging all audience members who have or will ever face transgressions on their rights by national security and counterterrorism policies and practices to reach out to the legal services available through this program. Injustice and the presumption of criminality have become such an imminent threat, an inescapable reality lurking in the shadows of being Muslim in America. Our gatherings had to be prefaced with how to handle that.
Here we were, over a hundred Muslims in a single room–struggling students, recent graduates, physicians and filmmakers. Our distinct narratives all crossed paths at one common intersection: being Muslim in America. Or in other words, surviving America as a Muslim. In that moment, nothing felt more urgent than the promise of controlling the recountal of my story, during a historical moment inundated with presumptions of who I am as Muslim, as woman, as American. And as the space that exists in between.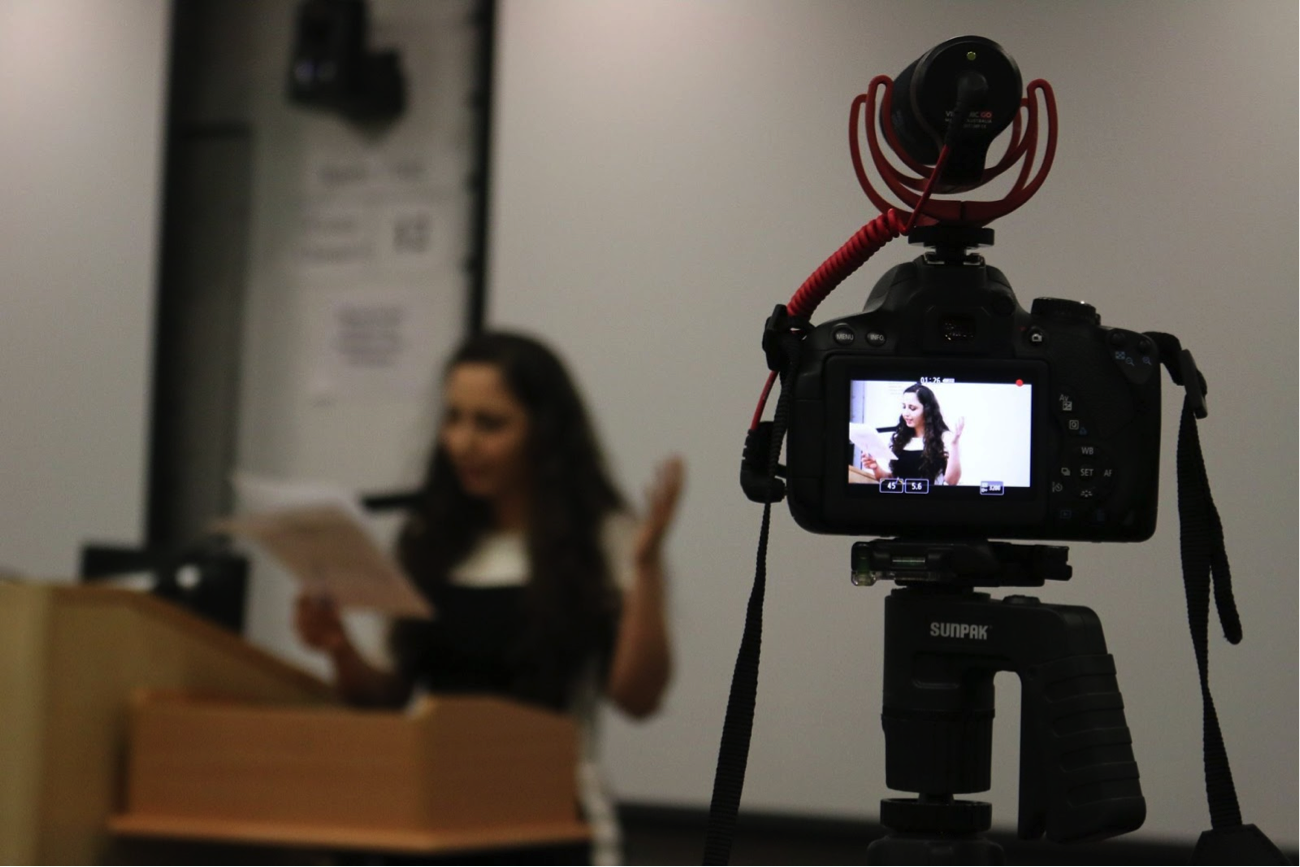 Last semester, amidst the turmoil caused by Donald Trump's call to ban Muslims from entering the country and the frightening surge in hate crimes committed against Muslims in North America and Europe following the terrorist attacks in Paris and San Bernardino, I felt stuck in a story with a terrible plot.
I wake up. A woman at San Diego State University is choked with her hijab by a white man in his twenties. Grab brunch. Large rocks are repeatedly smashed through the windows of a Muslim family's home in Texas. Go to discussion section. Sixteen year old Somali-born Hamza Warsame is severely beaten and thrown off a sixth-story window in Seattle's Capitol Hill neighborhood. Cram for a seminar. Kids rip a fellow sixth-grader's hijab off her head after taunting her with ISIS jokes. Eat dinner. Hot coffee is poured over two Muslim men praying in the corner of a public park in Sacramento. Pray. A Muslimah is pushed into the path of an oncoming London Underground train. I start to lose track.
Sitting in that lecture room– whose walls, like my own, were graciously being confided in by ten first-time performers–I wondered if ten, fifteen or hundreds of shared stories could even begin to cure this deep-seeded sickness of the heart. The kind that spreads like a deadly virus through a national consciousness yet leaves many people harmed, dehumanized and dead in secret. Is anyone listening?
That night in New York, I listen. I soak in the final lines of a rap performed by Sherif Ibrahim: we above it / we will rise / with art and love / we'll change the tides. I think about the stories I had heard so far that night–on depression and the diaspora. On surveillance and patience. On practicing love and accountability in the face of discrimination. It must means something, to trust a halfheartedly listening world with your story and most importantly, to believe in the possibility of reframing the narrative surrounding you.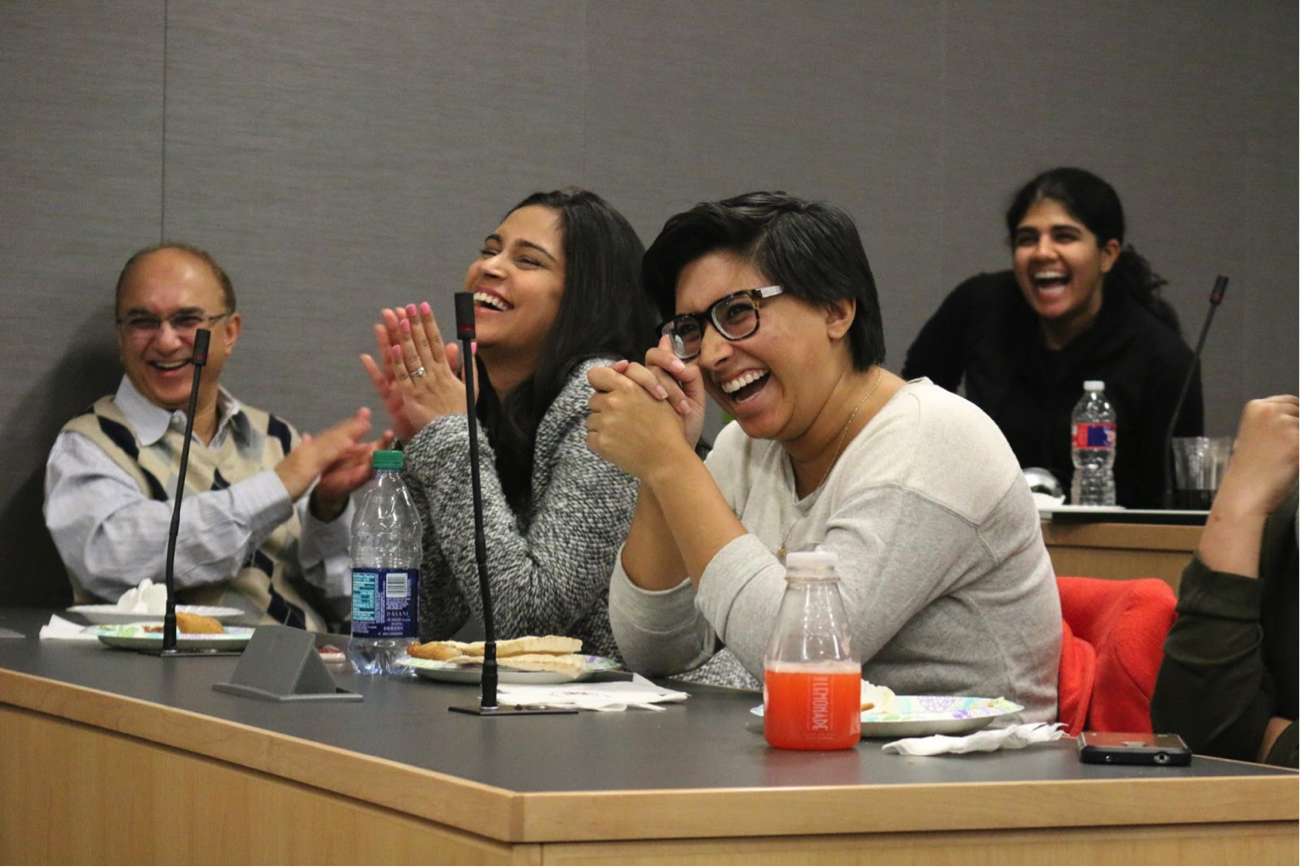 Maybe the storyteller's resolution is just that: to express unapologetically. I do not know if anyone is listening, but this year I commit to write. I will not write to convince the likes of Trump of my humanity because I know who I am. I will write for myself, for my Muslim brothers and sisters. I will write for anyone willing to listen with an open soul and for those who choose the art of storytelling–whatever form it may take–to resist bigotry. If a revolution begins with a person on fire running towards fire, then I will ignite a flame with my words.
All photographs were taken by Hind Kasem from the Muslim Writers Collective