by Marina Tinone
photos for Down Magazine by Matthew Thekkethala
On Friday, October 28, the Coalition to Change the Name— a collective of over 40 sponsoring New Haven and Yale-based organizations—protested the name of Calhoun College. While previous protests had not received much coverage, the numerous speakers and cross community solidarity at this protest garnered the attention of multiple local news groups.
This past summer, Corey Menafee, then a dining hall worker in Calhoun College, broke a windowpane depicting slaves picking cotton. His action gained the support of the New Haven community, as well as national media coverage.
Before the march began multiple community members spoke to address the crowd. Speakers included Kica Matos, Barbara Fair (My Brother's Keeper), Addys Castillo (City-Wide Youth Coalition), Edgar Sandoval (ULA), and Travis Harden (#NoDAPL activist visiting from South Dakota), among many others. Yale faculty member Charles Musser (BK '75) also spoke during the rally.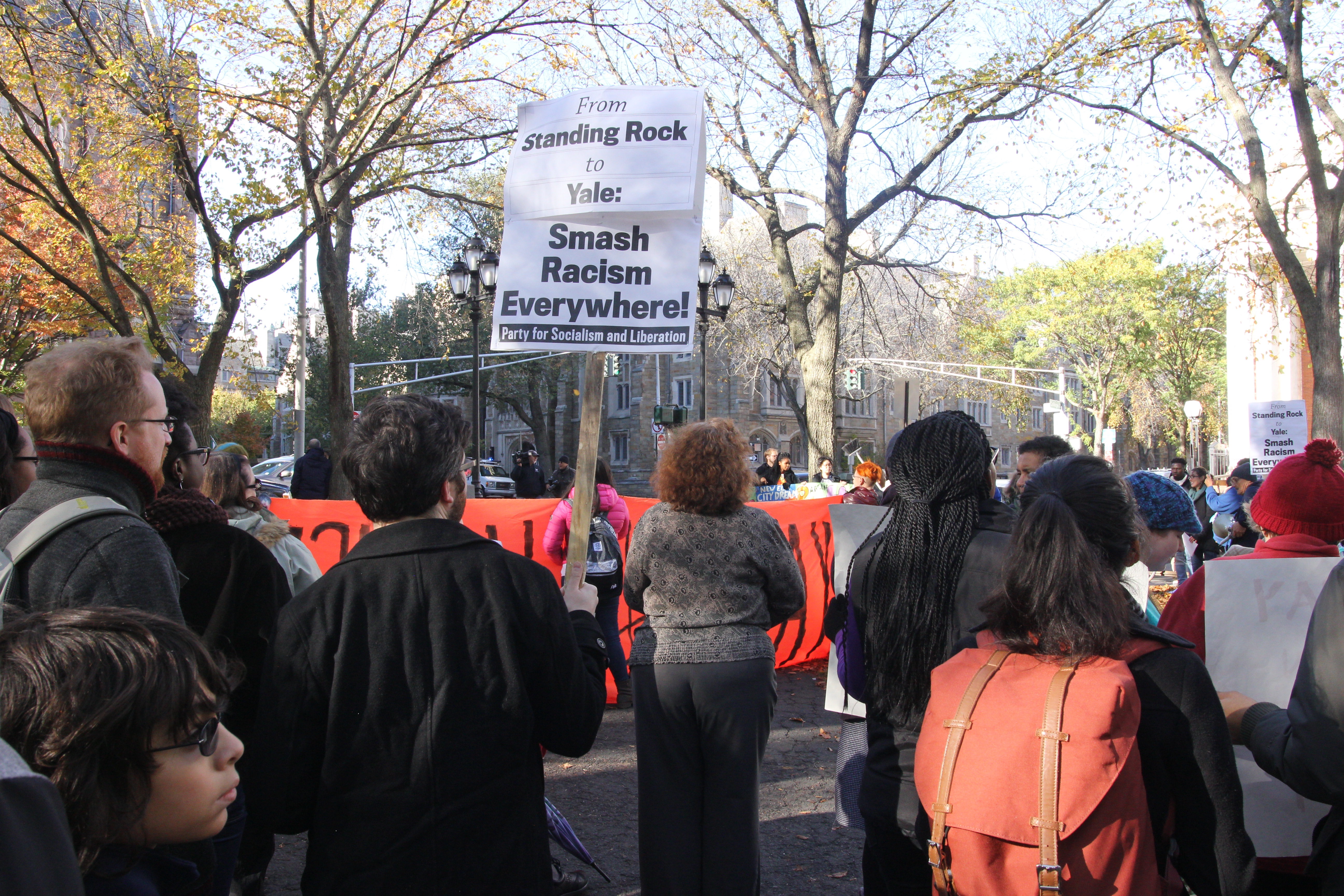 "It [is] a question of whether or not you think Calhoun represents the best of Yale, Yale's legacy, Yale's relationship to slavery," Musser said. "Yale really has a tradition, a heritage, in which it was on the "right" side of history. Why is the university doubling down on the worst examples?"
The rally then progressed from the initial Elm and College Street location to a march. As the group moved down College, Chapel, and York, some pedestrians stared, others joined the march. Dining hall workers on break outside their dining halls watched on, some joining the chants as the rally passed by them.
The march concluded in front of Woodbridge Hall with members of the rally chanting in front of President Salovey's office. Corey Menafee, who arrived to the rally during his thirty minute break from work, then spoke to the rally.
"We are here because we want the powers that be to hear us, to hear us loudly and clearly. And the time to change is now," Menafee stated. "Not next semester, not the year after, but now."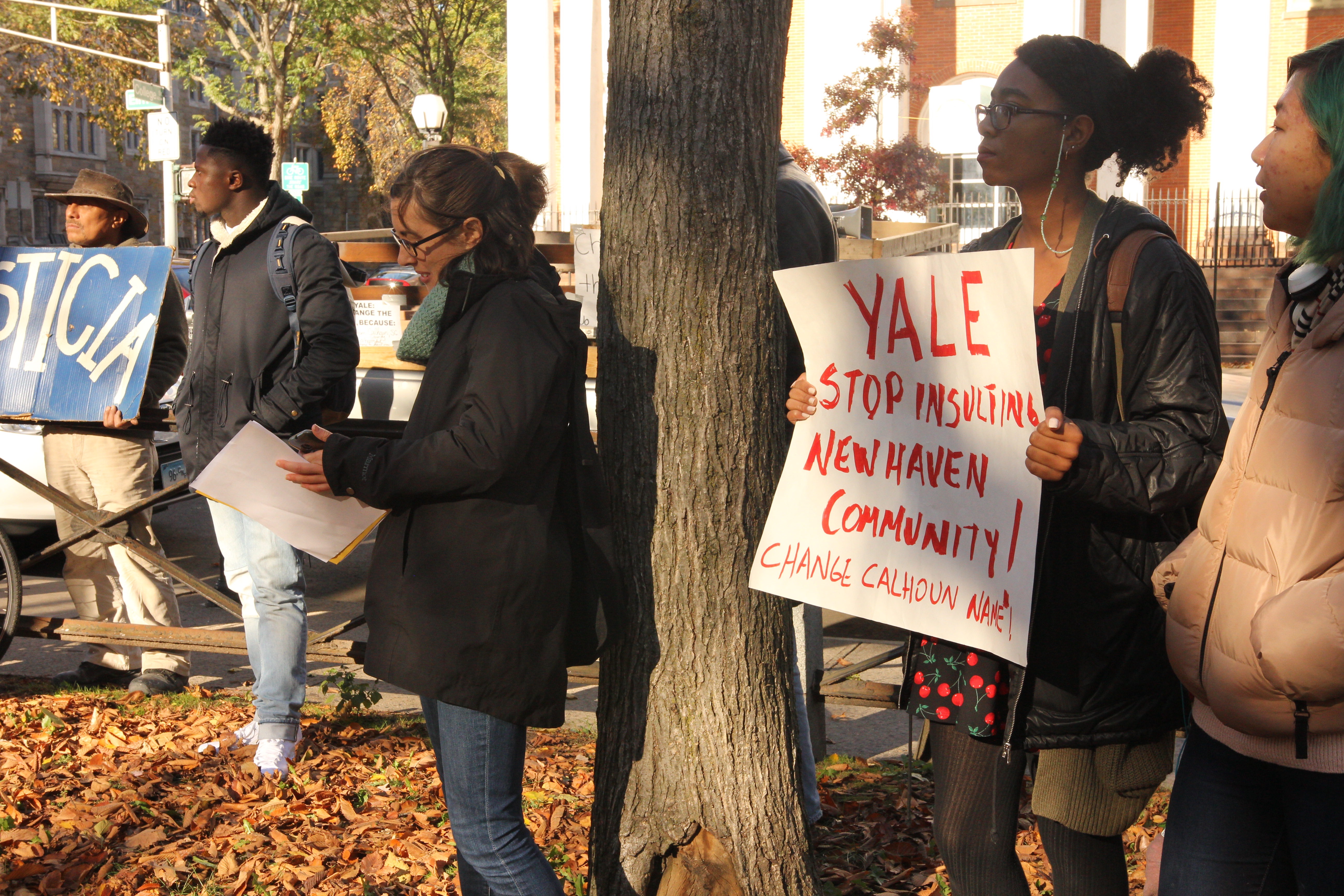 Although she could not be present, Shirley Lawrence, a dining hall worker in Davenport, was also represented. A student spoke on her behalf, voicing Lawrence's wish for dining hall staff representation on the currently established Committee to Establish Principles of Renaming. There is currently an 800-signature petition in support of the creation of a position for Lawrence on the Committee.
In a press release statement, Lawrence argues, "Calhoun College is an open wound. What happens to a wound when it isn't treated? What Corey Menafee did is what blue collar workers are feeling every day. We're surrounded by reminders of slavery every day."
With the words of these final speakers, the coalition delivered their letter to Woodbridge Hall. The organizers then taped signs, all describing reasons why Yale should Change the Name.
Referring to the day that Corey broke the windowpane, Patricia Kane, Corey Menafee's lawyer, explained that "This issue made a lot of people realize that what goes on in Yale is not just about Yale."
She continued on to say, "There are so many people like Mr. Menafee who live here and work at Yale, and they're affected by the environment. And it really pained him, every day, to go in and look at images of slavery. He was in a hostile work environment as defined by law. Those images were offensive because of his race."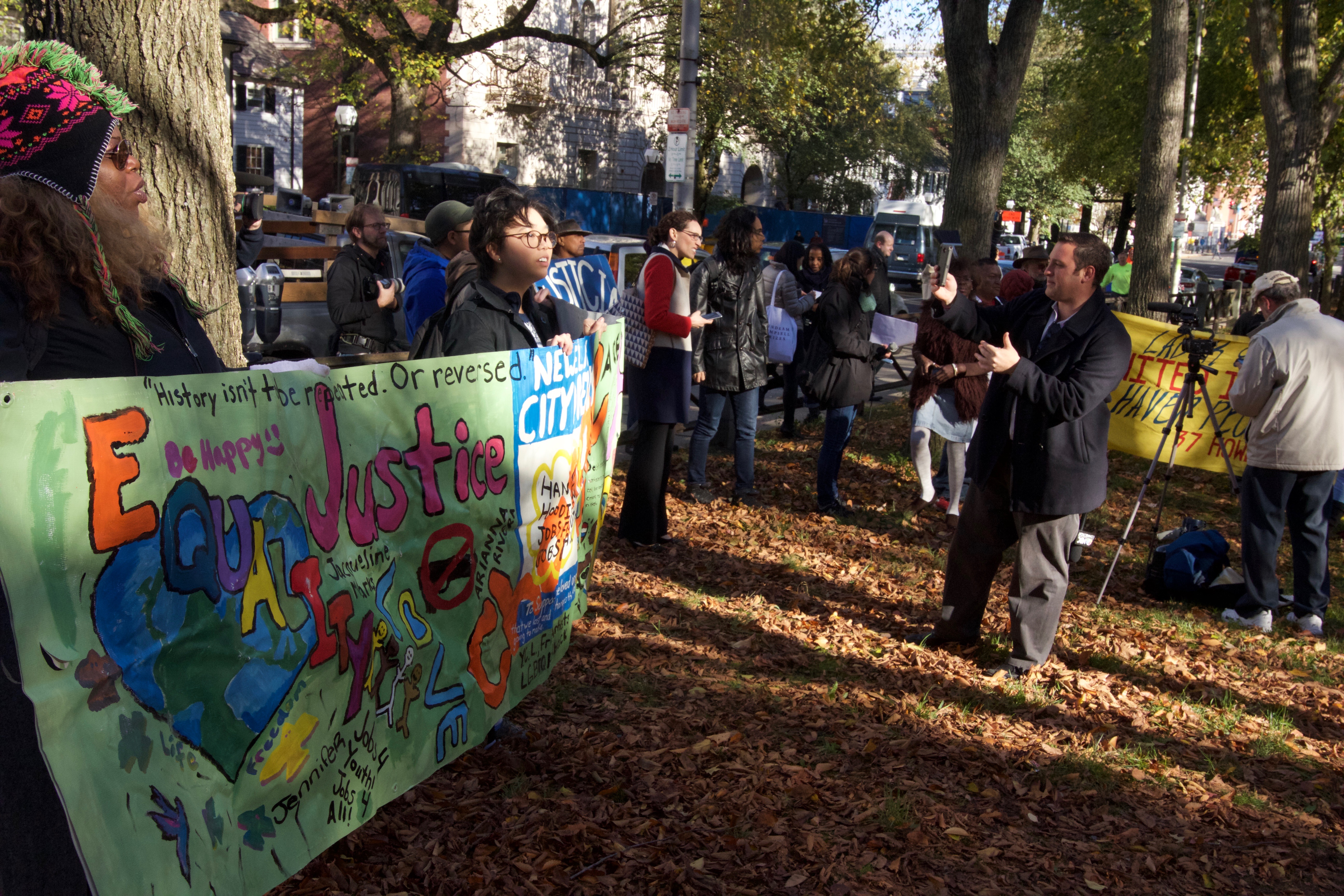 Kica Matos, the Director for Immigrant Rights and Racial Justice for the Center for Community Change who organized the rally and the protests last summer, explains how Menafee's act linked the New Haven and Yale communities together.
"The university treated him like a criminal. They arrested him, they handcuffed him, and then proceeded to charge him with a felony and a misdemeanor, which meant that he could potentially face some serious charges," Matos said. "People had this sense that, if this had been a frat boy smashing down a window there's no way he would've been treated the way Corey Menafee was."
Matos added that while she believes most progressive people were horrified with the university's decision to keep the name Calhoun,"It wasn't until the incident affecting Corey [that] it just felt like it was a slap in the face for students and people of color."
"It dawned on us…that the Calhoun name is problematic. It's not just students who are affected… We realized, dining hall workers, most of whom are people of color, [and] other blue collar workers who are at the university and assigned to Calhoun have to deal with this racist college that really celebrates the white supremacist and is not ashamed to display racist propaganda."
Barbara Tinney, the executive director of the New Haven Family Alliance, echoed a similar sentiment.
"My presence here has more to do with having grown up in New Haven, and having a seventeen-year-old grandson," Tinney stated. "This whole debate about "change the name" is offensive. My position is, you can't memorialize the name without memorializing the man, and then memorializing his words… How do you, how does anyone lift this man up, debate about whether or not you're going to name a college simply because he was a Yale grad?"
"The people have spoken. The students have spoken," Matos said. "Many Yale alum have spoken and now the community is speaking."