by Katie McCleary (Staff Columnist)
Standing Rock Update
Last Sunday, on September 25, water protectors planted trees along the proposed path of the Dakota Access Pipeline. The stark difference between planting a tree and digging a pipeline makes this event so beautiful. They show us that the movement is not only to protect our existing resources but also to nourish and replenish the earth. From planting trees to hosting horse races every Saturday, the water protectors are demonstrating how to organize and defend our rights in ways that reflect our cultures and world views.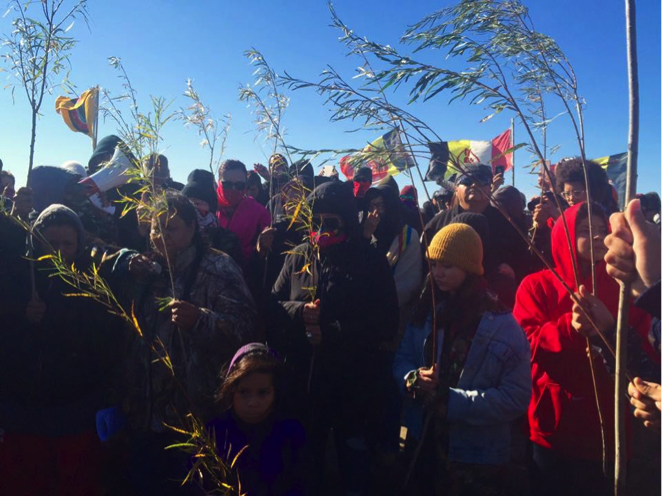 Iowa Poster: Cultural Appropriation and Brownface
The Clark Community High School basketball team in southern Iowa printed posters recently featuring the team in brownface, appropriating Indigenous cultures. Clarke Community Schools Superintendent Steve Seid told KCCI News that the poster is a meant to be a demonstration of the school pride, "out of total respect for not just the community, but the entire state in general with a Native American background…. No negativity intended at all. Just respecting a rich culture."
The symbols included on the poster don't accurately represent any Native peoples or cultures, especially not the Native peoples of Iowa. The totem pole, at the center of the poster that has a basketball hoop attached (a whole other problem), is a tradition of Native peoples in the Pacific Northwest coast, and most of the symbols appear to come from misrepresentations of Native peoples in popular culture. For example, the bottom of the poster seems to be inspired by Walt Disney's 1953 film Peter Pan, in which "Indians," also represented with various pieces of different Native cultures, dance around a fire: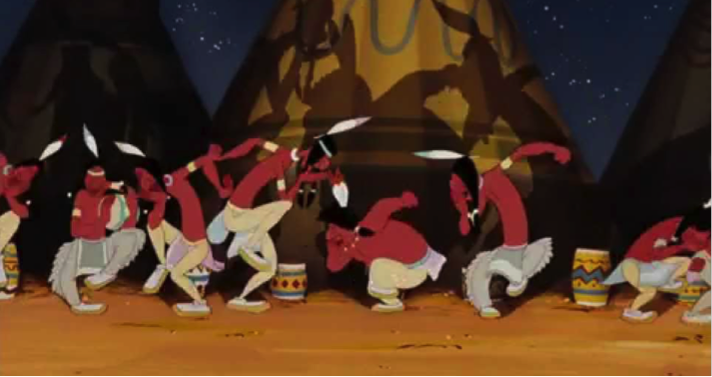 Due to the blatant appropriation and disregard for indigenous cultures by the basketball team and the school, there seems to be a lack of knowledge about contemporary Native communities. The Iowa Commission on Native American Affairs said: "The poster misused symbols representing a Native culture and spirituality in a disrespectful way…We hope that the school and other individuals recognize that this poster reinforces and perpetuates offensive imagery and stereotypes of our culture."
The basketball team's poster, the appropriation of indigenous cultures in tacky Halloween costumes, and Washington football fans on game days are all examples of appropriation of indigenous cultures. These types of brownface and appropriation erase Native peoples and belittle our cultures to be little more than feathers and face paint.
Native people are not mascots. Native people are not remnants of the past. From Standing Rock to New York City to Yale's Campus we are surviving and indigenizing every day.
Solidarity with Standing Rock: Muslim Communities
This week over 100 Muslim faith leaders from Muslim communities across the United States expressed their commitment to protecting the water and defending the sacred. They posted on social media saying "We stand with you in your struggle to defend the sacred. We know that water is life, as it says so clearly in the Qur'an, 'We have made every living thing from water.'" The group also released a video made in solidarity with Standing Rock.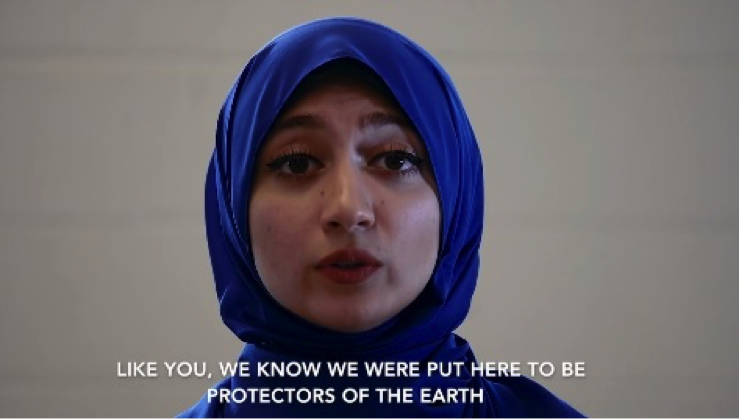 At this time in the United States when Islamophobia is rampant and threatens the safety of Muslim people, the Muslim leaders' expressions of solidarity are incredibly powerful and moving. As lawyer and playwright, Mary Kathryn Nagle, mentioned at the Dakota Access Pipeline Teach-In on Yale's campus, the movement against the fossil fuel industry is led by us, all of us, Indigenous and non-Indigenous people standing against injustice to protect the earth.
Check out launchgood.com/standingrock for more information on how they plan to help and how you can help the movement at Standing Rock.
"Indigenous Beats" is a new column dedicated to the circulation and discussion of indigenous news cuz #NativeErasure. Raised on the Crow Rez in Montana I come from Apsáalooke and Chippewa-Cree families. Check back for that aunty quality gossip, reviews of indigenous arts, and coverage of issues that affect indigenous communities. I'll be there for you when mainstream media isn't.