by Ellie Pritchett 
Ease on down, ease on down the road
Ease on down, ease on down the road
Don't you carry nothing that might be a load
Come on, ease on down, ease on down the road
I love The Wiz. I just adore it. After two all white live musical productions (The Sound of Music and Peter Pan), you can't even imagine how excited I was to find out that NBC was putting on a production of The Wiz this year.
And then…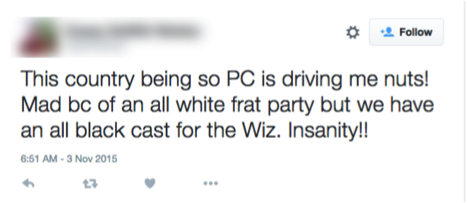 Cuz there may be times when you think you lost your mind
This is insanity.
Have you ever seen The Wizard of Oz? How can you act like The Wiz is some separate entity from The Wizard of Oz? It's a Black retelling. You want to make a white version of a Black version of a white thing? To what end? (Don't say anything unless you're gonna say "oppression").
And the steps you're taking leave you three, four steps behind 
Except that I won't.
History: The Wiz is a Black version of The Wizard of Oz. It first ran in 1974. In 1978 it was made into a movie with Diana Ross and Michael Jackson that's low-key one of the best movies ever made and, despite that, was very badly reviewed. A generation of Black folks still love it, regardless.
The Wiz doesn't just put on The Wizard of Oz with a Black cast—it's a journey through Black tradition, particularly Black music. The musical offers Black people a sense of a belonging in the world of The Wizard of Oz—not somewhere you'd expect Black people to belong, but in this show, little Black Dorothy does!
That's why I can't leave that tweet (and the innumerable others like it) alone. It's that same picture of the little girl in front of the TV screen, in front of Uzo Aduba's Glinda; she's seeing herself, or her mother, or her aunts, in the place of that fairy princess, in a role Black people don't play often.
Just you keep on keeping on the road that you choose
Last year my high school put on a production of The Wiz. I went to a pretty small public school in Center City Philadelphia. Our director, vocal director, and instrumental director were all white, so the part of this show that deals with Black issues was pretty completely purged.
I even remember vividly the orchestra director (more than once) introducing The Wiz as the "pop culture" or "pop music" retelling of The Wizard of Oz, which is as much what The Wiz is as The Wizard of Oz is a fairy tale about a girl who gets lost. It just isn't, to perform it that way drained it of its power and purpose as a show. 
Don't you give up walking cuz you gave up shoes
I was, and am, affected by this show. I wasn't someone who grew up on The Wiz; I remember watching it a few times as a child, but it wasn't a family tradition. I rediscovered the show when the music program decided to put it on my senior year. The announcement rekindled a couple sparks in me—mostly "Why?"s, dimly remembering the movie and knowing already how it would go—and I vaguely remembered what it was like to see it as a kid… so I went and watched it again.
Twice.
There's something magical about this show, especially the musical, that really resonated with me even as a teenager. The music is beautiful, the show is the right amount of silly, sometimes ridiculous, often sad, serious, powerful, but all of those things in a sort of loving way of Black people talking to Black people.
Of course it's not a perfect show, not in the slightest—but it's damn fun.
Cuz there may be times when you wish you wasn't born
And you wake one morning just to find your courage gone
But just know that feeling only lasts a little while
Just stick with me and I'll show you how to smile!
The NBC production, regardless of its detractors, is well aware of its job as a Black musical. It knows exactly what its role is—to showcase Black culture and a Black journey. It makes some deliberate decisions, like including "You Can't Win" from the movie, about the perils and paradoxes of being Black in a racist society. Even the open casting of Dorothy, which brought us new talent in nineteen-year-old Shanice Williams, preserves that implicit message that everyone belongs in Oz.
And throughout the show, there's a sense of magic and enchantment that's so dear to the musical, the movie, The Wizard of Oz, and Oz itself—the bounce of the munchkins' costumes, the bright, twisting yellow brick road, Amber Riley's god-sent vocals, Ne-Yo's magic hat that's never left his head… 
The Wiz isn't timeless in the unchanging, ever-enjoyable way of The Wizard of Oz—it's timeless in that it's always applicable and adaptable in a way that makes it powerful to viewers throughout the generations.