by Katie McCleary (Staff Columnist, Apsáalooke/Chippewa-Cree)
On Friday, September 9th, Judge James Boasberg denied the Standing Rock Sioux tribe's request for an injunction to stop construction of the Dakota Access Pipeline underneath the Missouri River. After Judge Boasberg's decision, three government agencies – the U.S. Department of the Interior, Department of Justice and Army Corps of Engineers – issued a joint statement temporarily halting pipeline constructions bordering Lake Oahe and suggests reform of Native input on such infrastructure projects[1].
As the fight for water rights and Native sovereignty continues, more and more indigenous people stand in solidarity against exploitation by corporations. To demonstrate the diversity of the Native nations, indigenous peoples, and groups standing in solidarity against the Dakota Access, I've compiled t-shirt designs, posters, a music video, and graphics of the resistance. I've also included links to where you can purchase the art, because a portion of the proceeds from many of the pieces go directly to Standing Rock.
The indigenous revolution has begun.
Artist: Weshoyot Alvitre
Nation: Tongva
Apparel and prints available from https://society6.com/weshoyot. All proceeds go to Standing Rock.
Artist: Steven Paul Judd
Nation: Chickasaw
Apparel available at www.thentvs.com. All proceeds from the No DAPL t-shirts go to Standing Rock.
Artist statement: "Did you know this is how we were described in the Declaration of Independence? This isn't about hating the country or hating white people. It's about educating people. Racists and hate speech isn't something I will stand for for my own social media, so why would I let it slide on the Delectation of Independence?" #sageAgainstTheMachine
Artist: Erica Pretty Eagle Moore
Nations: Osage, Otoe, Pawnee, Sac and Fox
Artist: Tyler Read
Location: Art Alley, Rapid City, SD
Title: "How The Protectors Defeated The Black Snake"
Artist Statement: "To the people of Standing Rock, with love, peace, and prayers."
Artist: Isaac Murdoch
Nation: Anishinaabe Serpent River First Nation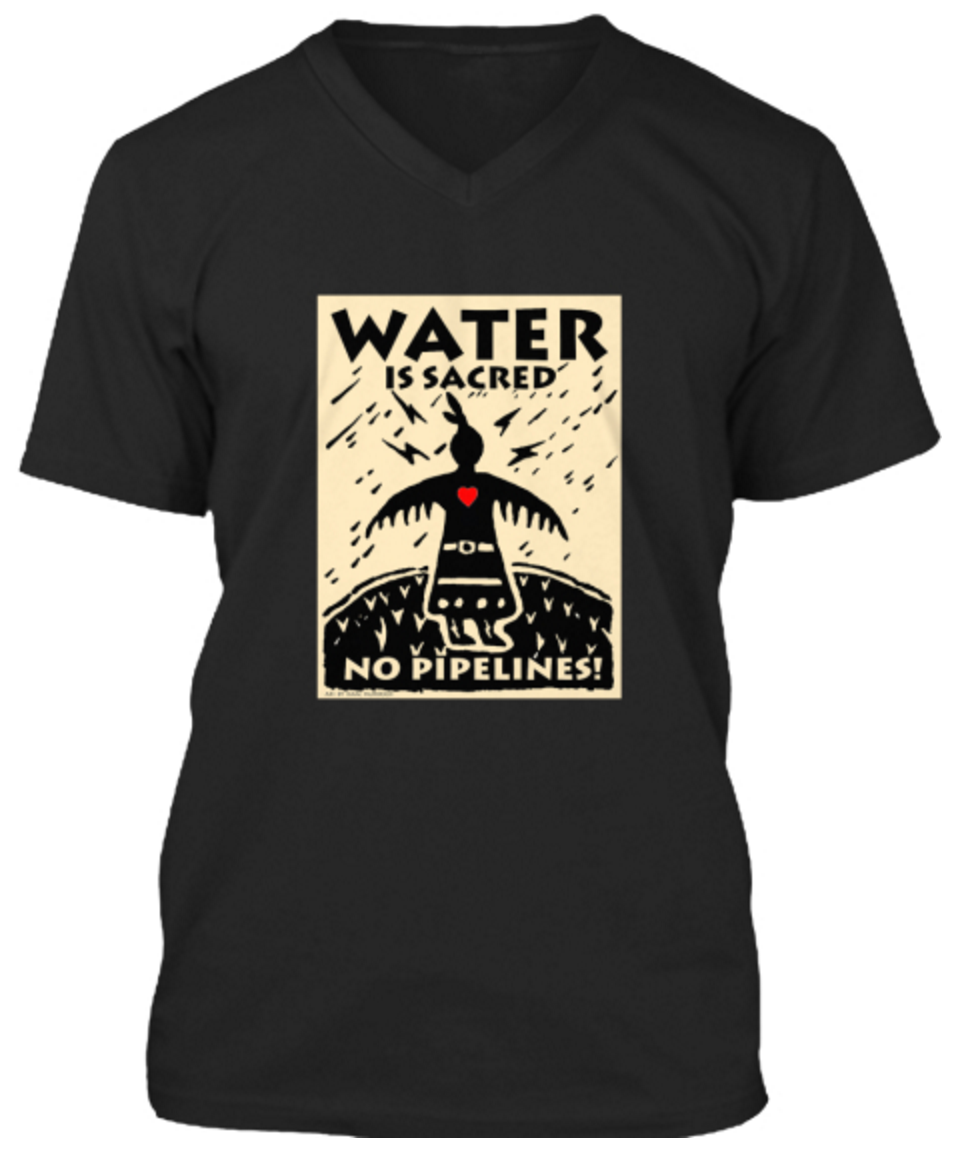 Apparel available at https://teespring.com/water-is-sacred#pid=212&cid=5839&sid=front. All proceeds go to the Onaman Collective to "help work on environmental issues, Indigenous language restoration and connecting youth and Elders to land with Indigenous traditional knowledge."
Artist: Marty Two Bulls Sr.
Nation: Oglala Lakota
Artist: Lyla June
Nation: Diné
"All Nations Rise"
Music Video: https://www.youtube.com/watch?v=nr2VLI8jKww
Artist Statement: "I am a Diné (Navajo) woman but I wrote this last verse in Spanish because our native brothers and sisters in Central and South America experience a deeper suppression of their culture and identity than we do up here in the "the states". The Eagle and the Condor are coming together."
Artist: Raye Zaragoza
Nation: Pima
"In the River: A Protest Song"
Music Video: https://www.youtube.com/watch?v=I4eosRdP5gQ
Purchase at http://www.rayezmusic.com/music. All profits go to the Sacred Stone Camp.